EPISODE #16 OF THE RAVEN EFFECT PODCAST 'RAVEN UNPACKS HIS BIG PORTLAND WRESTLING ANGLE, GOAT YOGA AND HEEL PSYCHOLOGY' ON THE JERICHO NETWORK IS NOW POSTED UP ON PODCASTONE.COM

POSTED ON June 13 2017
The sixteenth episode of The Raven Effect podcast on The Jericho Network is now posted up on PodCastOne. It's a sequel to last week's episode on wrestling and is now live! Check it out at https://www.podcastone.com/episode/Raven-Unpacks-His-Big-Portland-Wrestling-Angle,-Goat-Yoga-and-Heel-Psychology

This week, Raven and Busby break down Raven's (or in this case, Scotty the Body's) faceted feud with Steve Doll in Portland featuring (but not limited to) battling valets, 2nd rope piledrivers, giant referees and Raven singing Stevie Wonder! Also, its the return of Fan Mail, the Quote of the Day, Did You Know and news items about clitorises, Monopoly board pieces and Olive Garden hitmen. Its a loaded show so get your fire-breathing goat and settle in!

Elsewhere on the show: Rip Rogers is the Brat! Raven gets a colonoscopy! Flip Wilson...luchador! Art Barr ruins a jean jacket! And a tease about Raven's rap career!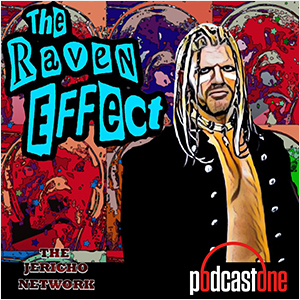 Send in your comments and questions to fanmail@theraveneffect.com and you might get your letter read on the show!



MP3 | 1:43:00
Direct download
The Raven Effect on iTunes
The Raven Effect at PodcastOne