NEW STAR WARS INSPIRED RAVEN VS. DREAMER SHIRT UP ON PROWRESTLINGTEES.COM, PLUS 20% OFF SALE FOR BLACK FRIDAY!

POSTED ON November 25 2015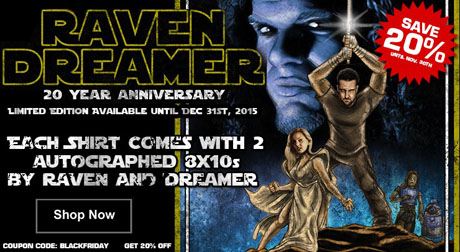 Raven has a brand new shirt design up on his merch page at ProWrestlingTees.com. This is a timed edition Raven t-shirt design available through December 31st, with profits split between Raven, Tommy Dreamer, Stevie Richards and the Blue Meanie, featuring the bWo as R2D2 and C3PO, Dreamer and Beulah as Luke and Leia and Raven as Darth Vader!

Plus you get 2 signed 8x10s of Raven and Dreamer with your order. If you enter code BLACKFRIDAY at checkout, you get 20% off your order until 11/30 at noon!

That makes 11 Raven designs currently available for sale. Check out this latest Raven shirt design available now at ProWrestlingTees.com/raven.