EPISODE #12 OF THE RAVEN EFFECT PODCAST 'All Wrestling Episode! Raven Talks about Memphis, Florida and The Iggy!' ON THE JERICHO NETWORK IS NOW POSTED UP ON PODCASTONE.COM

POSTED ON June 13 2017
The twelfth episode of The Raven Effect podcast on The Jericho Network is now posted up on PodCastOne. It's a sequel to last week's episode on wrestling and is now live! Check it out at https://www.podcastone.com/episode/All-Wrestling-Episode!-Raven-Talks-about-Memphis,-Florida-and-The-Iggy!

On this week's show, Raven and Busby continue their trip through Raven's wrestling origins as Raven delves more into his time in Memphis including his first TV appearance as well as the crazy travel schedule. Also, Raven talks about his run in Championship Wrestling from Florida and what its like to have heat!

Elsewhere on the show: Elvis Presley leaves them buzzing! Clothesline...off the second! Jesse Barr gives Raven the "Iggy!" Marty Jannetty teaches carny! And Perry Saturn's favorite joke!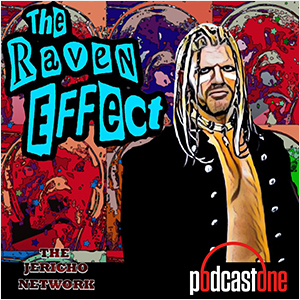 Send in your comments and questions to fanmail@theraveneffect.com and you might get your letter read on the show!



MP3 | 1:09:00
Direct download
The Raven Effect on iTunes
The Raven Effect at PodcastOne