EPISODE #13 OF THE RAVEN EFFECT PODCAST 'MORE WRESTLING EPISODE! RAVEN DISCUSSES FLORIDA, BOOKING PHILOSOPHIES AND JOBBING!' ON THE JERICHO NETWORK IS NOW POSTED UP ON PODCASTONE.COM

POSTED ON June 13 2017
The thirteenth episode of The Raven Effect podcast on The Jericho Network is now posted up on PodCastOne. It's a sequel to last week's episode on wrestling and is now live! Check it out at https://www.podcastone.com/episode/More-Wrestling-Episode!-Raven-Discusses-Florida,-Booking-Philosophies-and-Jobbing!

On this week's show, Raven and Busby pick up from last week with Raven's time in Florida, including the regrettable etiquette infraction that got him fired. Raven shares his thoughts on smart booking, taking your ego out of the equation and the effects of fame. Also, Raven and Busby finally name the podcast listeners!

Elsewhere on the show: Brett Ratner gets a wake-up call! Kid Rock commentates on a battle royale! Harley Race checks some crap out! Busby meets Vince Russo! And Matt Borne ties a tight knot!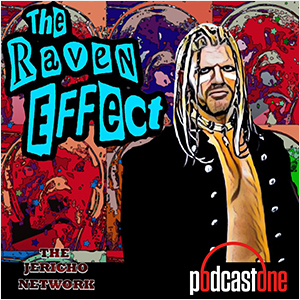 Send in your comments and questions to fanmail@theraveneffect.com and you might get your letter read on the show!



MP3 | 1:04:00
Direct download
The Raven Effect on iTunes
The Raven Effect at PodcastOne