EPISODE #14 OF THE RAVEN EFFECT PODCAST 'ITS THE EVEN MORE WRESTLING EPISODE! RAVEN LOOKS BACK AT VANCOUVER, PORTLAND AND...ARACHNAMAN?' ON THE JERICHO NETWORK IS NOW POSTED UP ON PODCASTONE.COM

POSTED ON June 13 2017
The fourteenth episode of The Raven Effect podcast on The Jericho Network is now posted up on PodCastOne. It's a sequel to last week's episode on wrestling and is now live! Check it out at https://www.podcastone.com/episode/Its-the-Even-MORE-Wrestling-Episode!-Raven-Looks-Back-at-Vancouver,-Portland-and...Arachnaman

This week, Raven and Busby discuss Ravens brief yet awkward time in the Al Tomko Vancouver territory as a ref-dropkickin' Chippendale. Later, Raven heads down to Portland on a wing and a prayer and gets some help from a Southern Rocker, a Cuban Assassin and a Hot Scot!

Elsewhere on the show: Dr. Seuss Ali! Snotty the Body! Raven does David Crockett! Young Fred Mertz! Marvel throws shade at WCW! And the Berzerker circles the airport!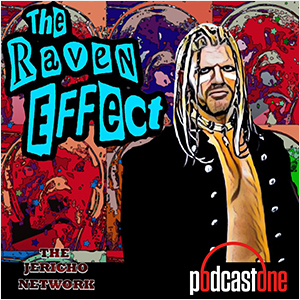 Send in your comments and questions to fanmail@theraveneffect.com and you might get your letter read on the show!



MP3 | 1:07:00
Direct download
The Raven Effect on iTunes
The Raven Effect at PodcastOne